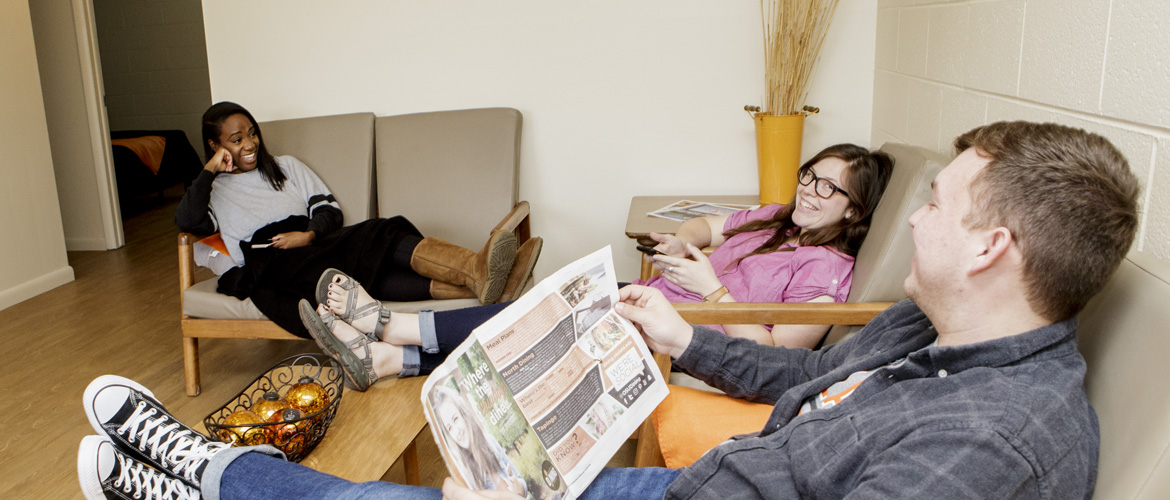 Be the Change
Monday, April 23, 2018
We're here to talk about something serious and important.
The simple act of reading this blog shows your incredible dedication in helping us put a stop to sexual assault.
Think about this - according to national estimates, one in four women are sexually assaulted while in college. Further, 20 percent of college women and 6 percent of college men will experience some type sexual assault. That is roughly 2,600 women and 800 men at OSU.
Think about yourself, your friends, your classmates. One in four could be affected by sexual assault and sexual violence by the time they graduate.
More than half of all sexual assault victims are between the ages of 18-34 and too many happen on college campuses.
So why are we talking about this?
April is Sexual Assault Awareness Month. There will be events and activities to raise awareness and promote education to prevent sexual violence.
Before we go on, if you are or have been a victim of sexual violence:
How can you help prevent sexual violence?
Consent is key. You know what consent is, but let's break it down just so we are clear.
Consent is:
voluntary
sober
wanted
informed
mutual
honest
verbal
never implied or assumed

Consent is required no matter if it's a current, long-term or broken relationship, a hookup or a marriage. Everyone has the right to say no and everyone has the right to change their mind.

A few key things to remember here:
How do you know if you have consent?
The only way to know for sure if someone has given consent is if they tell you.
Try questions like:
Is there anything you don't want to do?
Are you comfortable?
Do you want to stop?
What would you like to do next?
How do you know if you don't have consent?
Your partner is:
Silent
Passive
Not enthusiastic
Alcohol is involved
Asleep
They said no
A little confused? This video might be able to help clear this whole consent thing up.
REMEMBER: if alcohol has been consumed, consent is not possible.
Let's say it again. You always have the right to say no. You always have the right to change your mind at any time, regardless of past experiences.
Sounds scary, right? Sounds like something that will never happen to you? But it happens too often.
In fact, more often than not the victim knows the attacker and it is someone they trust. This can make it difficult to know what has happened to them is sexual violence. Here are some things to watch out for:
The person keeps handing you drinks at a party, insisting they must be consumed.
They keep touching you without asking first.
They insist on taking you home.
They are uncomfortably close or keep dancing too close.
What do I do if it happens to me?
If you have experienced sexual violence, know it is not your fault. Oklahoma State University takes acts of sexual violence and harassment seriously. There are numerous on- and off-campus resources to help you.
Speak to someone in University Counseling Services.
Report the incident through the Student Conduct office.
Call the Oklahoma State University Police Department (405) 744-6523) or the Stillwater Police Department (405) 372-4171). They will immediately help you.
OSU has victim advocates (405-564-2129) that can assist, give you advice, provide information, talk about your options and help with decision making. Call from 8 a.m. - 5 p.m. Monday - Friday.
Wings of Hope also has a 24-hour Sexual Assault Crisis Hotline (405-624-3020).
Seek medical attention through the Sexual Assault Response Team at the Stillwater Medical Center.
What do I do if I see this happening to someone else?
Please take action. It might feel like this is none of your business, but if it's happening in your presence and you're witnessing it -- it's your business. If the situation makes you uncomfortable, then it's probably making the individual feel uncomfortable.
What about safety?
Oklahoma State University is committed to the safety of each and every student. Here are some quick pointers to keep you safe on and off campus.
Orange Shield gives users access to features like:
Immediate police contact
Safe Walk
Bus Trackers
iReports
Peer-to-peer text alert system
If you want to learn more about campus safety head over to Pete's Protection Program.
Want to learn more about Sexual Assault Awareness and how you can help prevent it? Here are some opportunities:
Denim Day: wear denim in support of sexual assault awareness. Add a teal ribbon to let people know your jeans have a purpose.
Student Government Association "Its On Us" week.
Residential Life and 1 is 2 Many's Relationship Red Flag Campaign: posters and video in the residence halls to raise awareness.
Practice effective consent.
Intervene when something doesn't seem right.
Support your friends.

How are you showing your support for sexual assault and violence awareness? Show us on social media by using #iamokstate or #denimdayok. Until next time, Cowboys!