Winter Weather in Oklahoma
Monday, November 13, 2023
The weather in Oklahoma always feels like a toss-up, but in the winter it can especially feel that way. One day, it's sunny and 75, and the next, it's below freezing and sleeting outside. That said, it's important for students to understand the risks of winter weather.
Cold Weather Safety Tips
In frigid temperatures, layer up and limit your exposure! The recommended exposure time is no longer than 30 minutes.
Use caution when trying to rewarm your body. Numbness can prevent you from realizing you are being burned.
Smoking and drinking alcohol can interfere with blood circulation and slow down the warming process.
DO drink warm beverages – ones that contain sugar can be especially beneficial.
When traveling, beware of black ice on roads and sidewalks. Monitor road conditions here.
Space heaters or other portable heating elements should be used cautiously to prevent fire.
To avoid carbon monoxide poisoning, don't use gas-powered heaters indoors, and make sure your garage door is open before heating your car.
Remember your pets in the cold weather, and provide them with indoor shelter.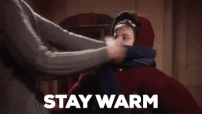 2023 Winter Weather Prediction
Grab your winter weather essentials because we're in for a cold one! According to the Old Farmer's Almanac, Oklahomans can expect lots of snow this winter. We have had what weather experts call a La Nina year in the previous winter seasons. La Nina is when winter temperatures are warmer than normal in the south and cooler than normal in the north. However, this past spring brought El Nino, the presence of warmer than normal sea surface temperatures in the central and eastern tropical Pacific Ocean.
You're probably wondering, "So, what does that mean for Oklahoma?" Well, El Nino causes the Pacific jet stream to move south and spread further east. During the winter, this may lead to wetter conditions than usual in the southern U.S. and warmer and drier conditions in the North. In the simplest of terms, we're expecting above-average precipitation this winter. Oklahoma meteorologists are predicting the state to see its first snowfall sometime in December – but like I said, you never know in Oklahoma!