Ways to overcome the winter blues
Monday, January 30, 2023
We're a few weeks into the Spring semester, and I think we can all agree the cold weather always seems to make it a little tougher to get going. So, this week our blog dives into all the activities campus has to offer you when you need a minute away from the books but want to stay inside!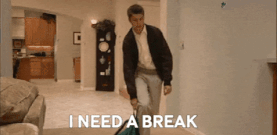 Hit the gym
Take a break and visit our Colvin Recreational Center! It's completely free to use for all students. The facility has a variety of things to offer to keep you active but out of the cold, from the indoor track and racquetball courts to group fitness classes and a rock climbing wall!
Unwind with mental health events
There's so many events on campus that promote taking care of your mental health! You can always check out the OSU Calendar for a list of all events happening on campus. Bring your friends or meet some there for a little homework break!And of course, you can always access the mental health resources OSU offers.
Get sporty
During the Spring semester, there are plenty of sports to enjoy, both indoors and outdoors! Catch a basketball game or wrestling match at GIA or some baseball at O'Brate Stadium.
Want to play a sport yourself? If so, join a team and play intramural sports!
Esports more your thing? Head to the Student Union and check out our state-of-the-art Esports arena!
Find your people
There are more than 500 student organizations offered on campus. They vary from Greek life and multicultural organizations to sport clubs and religious-affiliated student groups. Join an organization, find people with similar interests and expand your perspective!
Appreciate the arts
This semester the OSU Museum of Art presents Painting Influencers: art inspires art. Go out and enjoy the exhibit and maybe even finding your own art inspiration!
While you're at it, you should also check out the Student Arts Alliance! They've got book chats, fashion shows, DIY events and more.
One last thought
Cowboys, it's easy to forget that there is more to you than just being a student. Take some time this spring to get active on campus and find your community of people. You're off to a great start—let's start and finish the Spring semester strong!