HOCO: The best week of the year!
Monday, October 10, 2022
America's Greatest Homecoming is where it's at
Even if you're new on campus, you've probably heard about OSU's Homecoming celebration, and for good reason. We celebrate our Homecoming like nobody else, and whether you're experiencing it for the first time or the last time as a student, it's always a week to remember!
The low down on Hoco
OSU's Homecoming is presented each year by the OSU Alumni Association and Love's Travel Stops with the planning done by the student-driven Homecoming Executive, Steering, and Big committees. The event attracts tens of thousands of proud alumni to Stillwater to partake in the festivities and reconnect with their alma mater. Homecoming activities include Walkaround, the Sea of Orange Parade, the Sign Competition, Hester Street Painting, Harvest Carnival and Chili Cook-Off, and the Homecoming football game. We're excited and proud to celebrate OSU's 101st Homecoming event and continue this fantastic OSU tradition.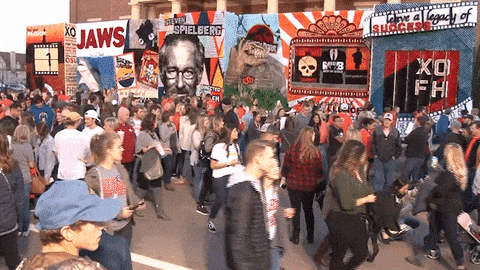 Back to the beginning
OSU's very first Homecoming was held as part of the Harvest Carnival in the fall of 1913, but it wasn't until seven years later that the OSU Alumni Association hosted its first official Homecoming celebration. On Oct. 30, 1920, 90 Oklahoma A&M alumni returned to Stillwater for festivities including the Aggie football game. Ten years later, the first Homecoming Parade, a mile long, made its way down Main Street.
Walkaround
It's what it sounds like, but you won't believe it 'til you see it
Thousands of alumni from across the country come home to see the huge house decorations built by the Greek community and residential halls. Students put in hundreds of pomping hours over two months to complete the house decorations on time. You can check them out on Friday night of Homecoming week (Oct. 21) beginning at 5:30 p.m.
DEFINITION: Pomping is placing small tissue paper into chicken wire using glue and pencils all while following a designed grid.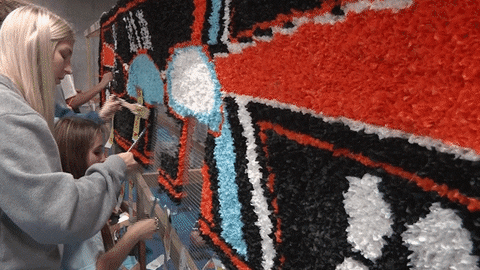 Sign Competition
The Edmon Low Library Lawn is decorated each year for Homecoming with signs created by the Greek organizations, residence halls, and campus organizations. Each sign reflects the group's theme for Homecoming. The signs are judged and awards go to each of the three different communities. Signs will be on display throughout the week of Homecoming. Alumni, students, and fans can also vote for their favorite signs and house decorations. Visit Edmon Low Library Lawn to check out the signs and cast your vote online!
Orange Reflection
Visit all of the OSU residence halls for Orange Reflection. This is a contest between different residential life halls who are participating in Homecoming. They decorate their halls with lots of orange lights in fun and creative ways!
The halls are judged on Thursday night by the Homecoming Royalty Court. The lights are on the Thursday and Friday (during Walkaround) nights of Homecoming week.
Sea of Orange Parade
Thousands of Cowboys pack Main Street in Downtown Stillwater to see the Sea of Orange Parade the morning of Homecoming. This year's parade will consist of 150 entries by OSU Greek organizations, residential halls, student organizations, alumni, and the Stillwater community. The parade is broadcast live by InsideOSU and will begin at 9 a.m. at Ninth and Main streets and travel north on Main to Hall of Fame Avenue.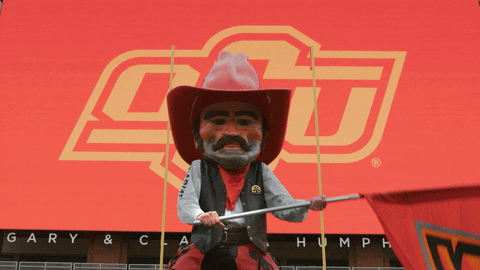 Harvest Carnival and Chili Cook-Off
The very first Harvest Carnival was in the fall of 1913 and was the precursor to the Homecoming tradition we know today. This event is created just for kids in the community and provides fun, educational opportunities with games designed by OSU students. The Chili Cook-Off is Homecoming's tastiest tradition and offers dozens of different recipes to sample created by residential life and student organizations. One canned food donation per person is required for admission, and additional canned food donations are encouraged and appreciated for the Harvest Carnival food drive.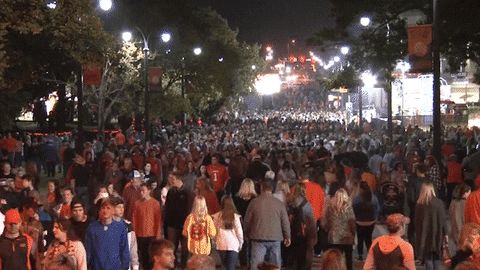 Hester Street Painting
Each year, Cowboy family members paint encouraging messages for the Cowboy football team and coaches to read on Hester Street during the Spirit Walk on game day. The OSU Alumni Association will provide supplies, and fans of all ages are encouraged to attend. Families are encouraged to arrive and begin painting at 5 p.m. on Wednesday, while students should begin arriving at 5:30 p.m.
Homecoming Tailgate
You don't have to wait until Saturday to tailgate for Homecoming! Students are invited to enjoy free food and entertainment provided by the Alumni Association on the Monday night of Homecoming week, October 17. Bring your friends to the ConocoPhillips OSU Alumni Center to get into the Homecoming spirit.
Homecoming & Hoops
Make your way to Gallagher-Iba Arena after Walkaround for this festive Homecoming event! Among the activities planned are a Basketball Bonanza All-Star game that will pit the top student participants from this year's competition against OSU athletes. A pep rally for the Cowboy football team will also take place along with introductions of Homecoming student leaders.
Event Schedule:
Thursday, Oct. 13 to Saturday, Oct. 15 – Cowboy Stampede Rodeo
Payne County Expo Center ($5 admission with OSU ID), 7 p.m.
Sunday, Oct. 16 to Saturday, Oct. 22 — Sign Competition
Edmon Low Library Lawn
Sunday, Oct. 16 – Royalty Coronation and Orange Fountain Dyeing
Edmon Low Library Fountain, 6 p.m.
Monday, Oct. 17 — Homecoming Tailgate
ConocoPhillips OSU Alumni Center, 5-7 p.m.
Tuesday, Oct. 18 – Harvest Carnival and Chili Cook-Off
Payne County Expo Center (admission is one canned good to donate), 6-8 p.m.
Wednesday, Oct. 19 — Hester Street Painting
Hester Street (west of Business Building), 5-7 p.m.
Thursday, Oct. 20 and Friday, Oct. 21 — Orange Reflection
OSU Residence Halls, 9 p.m.-midnight
Friday, Oct. 21 — Walkaround
Greek Neighborhood, 5:30-9 p.m.
Friday, Oct. 21 – Homecoming & Hoops
Gallagher-Iba Arena, 9 p.m.
Saturday, Oct. 22 — Sea of Orange Parade
Main Street (Ninth to Hall of Fame), 9 a.m.
Livestream scheduled on Inside OSU
Saturday, Oct. 22 — Texas vs. OSU
Boone Pickens Stadium