Game Day Game Plan
Monday, August 29, 2022
It's officially time for Cowboy football!
(cue the OSU Fight Song)
We want you to have the ultimate game day experience, so we put together some tips to help you make your game day game plan!

Pre-Game Plan
Get your Tickets
Make sure you purchase your ticket before the game! The mobile tickets are handy for scanning into the game.
What to Wear
Always remember to check the weather before you head to the game. When it's hot, wear loose-fitting clothing to prevent overheating. When it's cold, it can help to put hand warmers in your pockets and socks to keep you warm. And most importantly, don't forget to wear some orange!
Parking
Don't forget that you may need to move your vehicle if you're parked in a lot that is designated as POSSE parking for football games. Read more about that here.
The Walk
Hype up the Cowboys during The Walk to the stadium led by the man himself, Coach Gundy! Head over to Hester Street two hours before the game and cheer for the team, along with the spirit squads and Cowboy Marching Band, on their way to Boone Pickens Stadium.
Tailgating
Tailgating is a huge OSU tradition that brings together families and friends before the game for great food and fun!
Check out the OSU Tailgating Guide to make your pre-game plan.
And of course, we need to mention – if you choose to take part in the tailgating experience, be responsible. There are certain areas around the stadium that prohibit alcohol consumption, so know where they are.
If you appear intoxicated at the gates, you will not be allowed into the game.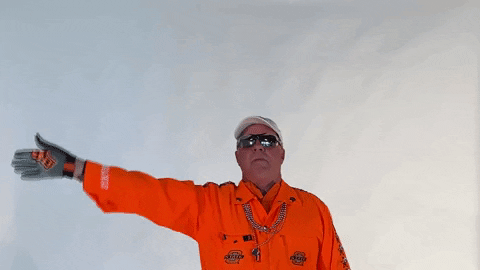 It's Game Time
Clear Bag Policy
Don't forget about the stadium's clear bag policy. You don't want to get to the gates just to find yourself having to turn around and take your non-clear bag back to your room or car.
Prohibited Items
To make sure you can get into the game quickly and get a good seat, keep it simple and remember to leave all these prohibited items at home.
Student Section
The West End Zone is your best bet when entering the stadium. From there, it's a straight shot to the Student Section.
To get a front-row seat, make sure to get to the gates about an hour early.
Just so you know, the student section is where all the action happens! So if you want to sit for the whole game, there are seats near the student section with a great view and available seating for students. Otherwise, be prepared to stand and cheer for the Cowboys the whole game!
Concessions
The debate of whether or not to get food and drinks before heading to your seat is as old as the game itself. But whenever you decide it's time for you to find some food, there are tons of great concession stands to choose from.
Bonus – you can charge food and non-alcoholic beverages to your meal plan or Bursar using your student ID.
Alcoholic Drinks
Beer is sold to visitors 21 and over at 22 locations around the stadium. Please drink responsibly – this means no sharing and do not purchase for friends under 21 years old.
Also important to note: NO RE-ENTRY! If you leave the stadium, you can't get back in.
Safety
If you see something that doesn't look quite right, report it. There are police officers and game day event staff around the stadium who can help you. You can download the Rave Guardian app that turns any smartphone into a personal safety resource.
If in need, First Aid rooms can be found at multiple locations in the stadium.
It's all about traditions
There are quite a few game day traditions that you will discover as each game happens in BPS, but here are a few you should definitely know before the game:
Paddle People
If you don't know who we're talking about, don't worry – you'll hear them! The Paddle People dress up and bring their own customized wooden paddles to hit against the wall padding inside the stadium for every game. The result is a loud pounding noise that echoes through the crowd. It wouldn't be game day in Boone Pickens without them!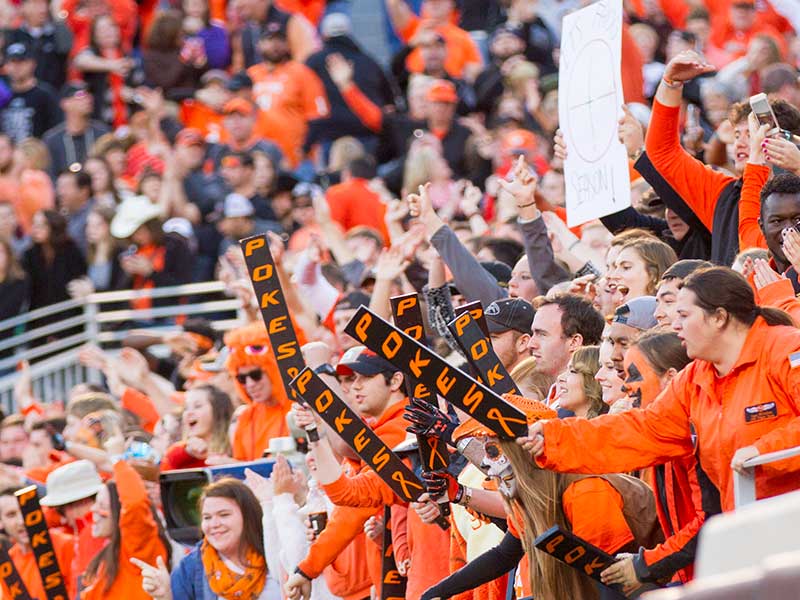 Bullet
Yes, we bring a live horse on the football field! When the announcer yells "HERE.....COMES.... BULLET!" the OSU Spirit Rider will race the flag down the field. This is the time to GO. WILD.

Songs
The Waving Song is one of our favorite touchdown traditions. It consists of waving one of your arms high in the air, back and forth when we score. Stay tuned after every win at Boone Pickens Stadium, OSU players and coaches gather in front of the student section in the northwest corner of the stadium to sing the Alma Mater hymn.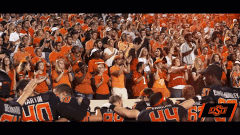 You're all set!
Have a great – and safe – game day! Go Pokes!