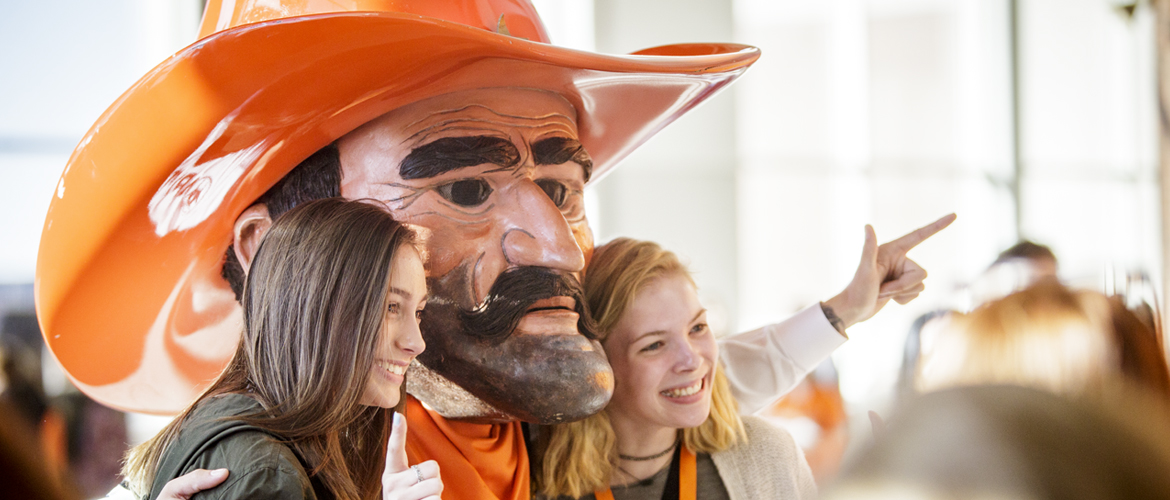 A Little Help from my Friends
Wednesday, January 31, 2018
You've got the hang of things around here by now. You've located all your classes, you know the best times to go to lunch and where to find good WiFi.
Now that you've got the basics down, look around.
There are so many people to connect with!
Sounds cheesy, right?
But a solid friend group is more important than you think. They can help ease stress, provide emotional support and give guidance when you need help studying or deciding what to wear to the next Cowboys game. These are the people you will spend lots of time with during the next four years. You will share milestone moments and reminisce five or 10 years after graduation about your time at Oklahoma State University.
But how do you make new friends when you are so busy with classes and other activities? It's easier than you think.
One of the best ways to make new friends is to get involved in campus organizations. Students who are involved are more likely to graduate and have better connections than those who don't. You also create a deeper appreciation for your favorite university. #winning
OSU has more than 500 student organizations on campus. You are bound to find one that you can connect with. Sport Clubs? Advertising Club? Astronomy Club? Book Club? You name it, there is probably a club for it.
Speaking of clubs, The Office of Multicultural Affairs has a list of several organizations you can join. Here, you can connect with other students who share a similar background or learn about new cultures. This is a fantastic way to get to know someone and make connections that will last a lifetime.
Okay, so you don't like clubs.
You might sit next to someone you don't know in your lectures. Strike up a conversation about the lecture topic, the latest fashion or the next campus event. Maybe even invite them to lunch. Don't be shy! Connect on something you both like. Music? Cars? Sports? Classes? Pistol Pete gear? Soon you'll have a study buddy for that class and a bestie for life!
Your CM will plan events...go to them! There is nothing better than movie night with friends and having a friend who lives in the same building as you. Even just going down to the lounge where everyone hangs out is a relaxing way to make friends. You never know who might be in your building.
Go to Student Union Activity Board events and meetings. Game nights, watch parties, movie nights, they have all sorts of events planned that are always fun and anyone is welcome to join. Everything is free, so take advantage of them!
How about staying fit and making friends at the same time? Try an exercise class at the Colvin Recreation Center. Sometimes feeling goofy around people can get you out of your comfort zone. You'll meet people who are always down to go workout. Friends that sweat together, stay together.
You are here to learn and grow, but making friends and having these connections is such an important part of the college experience. How did you meet your #okstate bff?
As always, come back here throughout the semester for tips, tricks, and pointers to make the most out of your #iamokstate experience. Go Pokes!